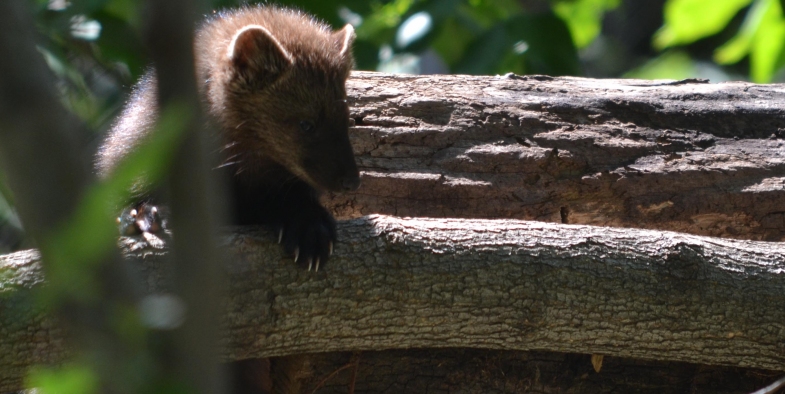 Article
The Ecomuseum Zoo is the recipient of a prestigious award of the CAZA_AZAC
October 22nd, 2015, by Ecomuseum Zoo
The Ecomuseum Zoo is proud to announce it is the recipient of the prestigious « Animal Enrichment Award » bestowed upon it by CAZA-AZAC (Canada's Accredited Zoos and Aquariums) for its new Fisher habitat, inaugurated just a few months ago in July.
Awarded annually by a jury panel composed of industry experts, the honor is presented to a zoological institution in recognition of exceptional achievements in the design and implementation of initiatives for animal well-being.
Innovation in habitation design
Almost mythical species of Québec's forests, the relatively unknown Fisher favors routes through the tree canopy for its activities despite its agility on the ground. Access to arboreal cover was therefore a determining factor in the landscaping of its living space, a significant challenge in the design of a project of this nature.
The concept and design of the created habitat manages to faithfully reproduce the Fisher's natural environment and to provide the structural complexities the species would encounter in the wild. Encompassing an escarpment already present on the site, the entire wooded area was integrated in the habitat in the very image of the zoo's natural and unique approach. The teams assigned to the project were successful in exploiting and improving the site's raw potential to the animals' benefit thereby maximizing their well-being and encouraging natural behaviors.
« This honor evokes great pride in our team members who each devote themselves tirelessly to the animals under our care. It recognizes not only the Ecomuseum Zoo's unique approach, but also the priority it assigns to animal welfare during the development of new projects. Welcoming only animals indigenous to Québec, the Ecomuseum Zoo has developed innovative expertise in the design and development of vast natural habitats that immerse both the animals and the visitors in a natural environment. The care of these animals is a responsibility that we take very seriously as they play the crucial role of ambassadors at the forefront of our mission centered on environmental education. »
— David Rodrigue, Executive Director of the Ecomuseum Zoo.